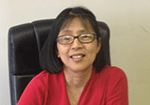 Conchita Posadas Zalany holds a Master's degree in Accountancy from Cleveland State University. A native of the Philipines, she earned her  Bachelor's degree in Statistics from the University of the Philippines. She then worked at stock brokerage firms in the Philippines as a Financial Analyst. In 2000, she came to Northeast Ohio to study at Cleveland State University.
Conchita joined Charles E. Harris as an intern in the spring of 2005. Two years later, she became a Senior Auditor. In that role, Conchita is responsible for planning and performing audits for all types of governmental entities including audits of financial statements, single audits, GASB 34 and CAFRS. She is also involved in the audit of specialized agencies such as self-insurance trust funds, transit authorities and counties.
When asked what she likes best about working at Charles E. Harris, Conchita said she enjoys working with a variety of different clients. Each client is a unique personality and every audit is a different challenge, noted Conchita, adding that she is always discovering something new about the auditing profession.