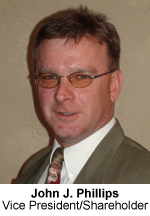 John J. Phillips Vice President/Shareholder of Charles E. Harris & Associates, has over 20 years of auditing experience and conversion experience. He graduated from Ohio University in Athens, Ohio in 1990 with a degree in accounting. He's a member of the GFOA Special Review Committee, the Association of Governmental Accountants and the Government Finance Officers' Association, among other professional organizations. All his required CPE credits have been fulfilled.
John began his career with Charles E. Harris & Associates as a Staff member, progressed to Senior, and Audit Manager, then Vice President and most recently, Shareholder. Having the privilege to begin as a staff member and advance to part owner, John has been instrumental in implementing auditing procedures and processes that are now being used by all auditors within the firm. John has also been able to perform detailed evaluations of internal control structures for all areas of a system and make recommendations to improve them.
Throughout his tenure, John has been instrumental in guiding Charles E. Harris and Associates in establishing their Columbus office, increasing the size of company from 2 to 25, implementing our electronic auditing workpaper process and improving our procedures and the budgeting process, saving our clients money.
Client communication is essential for any business to thrive, and Charles E. Harris and Associates is no different. John has ensured that all staff take the time to really listen to their clients and develop a relationship that will ease the auditing experience and assist both clients and auditors in completing the process efficiently, professionally and cost effectively. Also, John takes time to talk to clients to make sure they are happy with their experience and provide any other helpful information or answer questions.
Although very busy with his work and bettering the company, John is very committed and devoted to his family. John is married with two younger girls. When not performing audits and spending time with his family, John plays as much golf as possible. He also enjoys watching sports, including his Browns, Cavs and Indians.
Contact him at John.Phillips@cehcpas.com