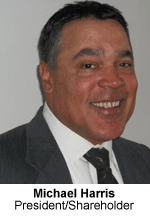 Michael Harris, CPA, President and Shareholder of Charles E. Harris, joined the firm in 2005 after the sale of his energy and related transportation/material handling businesses in Cincinnati where he served as Chief Financial Officer/Chief Operating Officer. Mike owned a CPA firm in Columbus from 1980-1995 after working for a regional CPA firm in Cleveland. Mike resides in Columbus and has two grown children, Micah and Preston.
Mike attended Illinois State University, Normal, Illinois on an athletic scholarship and obtained an undergraduate degree in accounting in 1976 after interning with local CPA firms in Columbus and Cleveland during his summer breaks. He obtained his Ohio CPA certification in 1979. He also belongs to several other accounting organizations, including the American Institute of CPA's. All his required CPE credits have been fulfilled.
Mike is responsible for long term strategic planning, financial operations, and oversees the operation of the Columbus office. He also runs specific audits and is responsible for staff and client support. Mike's belief is that client rapport is critical to the success of a business. He consistently guides clients and assists them during the audit process.
Mike enjoys playing golf, bike riding and watching football.